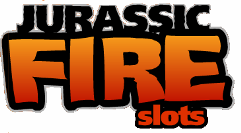 The Game
Jurassic Fire is single pay line slot game. The objective of this game, as in any other slot machine, is to match symbols in a line to a winning combination. There is not real strategy in slots; rather this game is based on pure chance. Payouts differ depending on what symbols match a winning combination on a line.
How to Play
To play Slots, you must place credits into the machine, select the amount of coins to bet and press spin. The outcome of the 3 spinning reels determines the payout.
Using the Slot Machine
The slot machine console contains the controls that you as the player will use in order to enjoy the experience and at the same time try your luck in order to win some credits. The description of each feature is described bellow.
Bet
Allows you to increase or decrease your bet by clicking on the + or - sign. By default each coin is worth $0.25.
Spinning Reels
This is a three reel slot machine with 9 positions per reel marked with symbols. Each time a spin is done; the three reels will spin and come to rest randomly with a selection of symbols shown in the game window. As indicated in the payouts chart some symbol combinations in the game window result in as winners.
Payouts
The payouts table shows the different winning combinations that the Jurassic Fire Slot machine offers to the player. This table indicates payouts for one, two and three coin bets.

Win
The Win box displays the total amount of money you win when you hit a winning combination. This includes your initial bet.
Credits
The Credits box displays the amount of money you currently have available in your casino account. (The amount showed actively changes as you play.)
Exit Button
The exit button leaves the game and returns to the lobby. It will not be enabled at all times, however it is operational once the spin is completed.
Bet One
The Bet One button places a single coin bet on the machine. Pressing it a few times will increase the amount of coins "dropped" into the slot machine.
Bet Max
The Bet Max button places the maximum bet allowed on the machine and spins the reels automatically.
Cash Out
The Cash Out button clears the bet amount and credits it back to your balance.
History
This button will allow you to see the outcome of the last 30 spins of the reels.
Live Dealer Casino
GoTo is now offering a live dealer casino.